Bealtaine Cottage has welcomed over three quarters of a million visitors...
"The longest way must have its close – the gloomiest night will wear on to a morning."
In seed-time learn, in harvest teach, in winter enjoy. ~William Blake
Most Recent Posts from Bealtaine Cottage
"Every morning was a cheerful invitation to make my life of equal simplicity, and I may say innocence, with Nature herself."
"Another world is not only possible, she is on her way. On a quiet day, I can hear her breathing." ― Arundhati Roy
Me, Gloria the hen and Flo!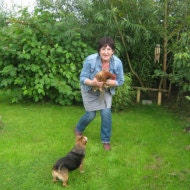 Colette O'Neill, Permaculturist, Tree Grower and Planter, nurturing Eden at Bealtaine Cottage, Ireland
A quality of life without…
A Quiet Life…
Images of Bealtaine Cottage
This slideshow requires JavaScript.
Top Posts & Pages…click on pic!
Eden…
You can find Bealtaine Cottage on YouTube too.
Join over 980 subscribers on the Bealtaine Cottage YouTube Channel!
.........................
Almost 120 videos from the Permaculture Gardens of Bealtaine Cottage...................and over 101,000 views!
http://www.youtube.com/user/BealtaineCottage
Over 800 previous posts from Bealtaine Cottage
Look for any of the past 600 posts…
Growing the Future, One tree at a time…
Celtic Triad